Advent Attentiveness
A St. Andrew's spiritual practice for Advent
Each week we will post a reflective piece written and read by poet Kim King. Find a moment of quiet, to centre and attend to the spiritual gift of Advent. Click on the image(s) below to watch and listen on YouTube.

Kim is Director of Halifax's Barat Spirituality Centre, and beloved friend of Saint Andrew's.

You'll find more of her writing, musing and wandering at www.considerlilies.blog.
Join Us this Advent
The holy season of Advent starts Sunday, November 27th with a special Advent Worship, featuring the Halifax Gay Men's Chorus.

The rest of December is full of celebrations, concerts, worship, events, communion and, above all, community.

Song.
Choir.
Orchestra.
Sharing communion.
Worshipping together.
Supporting Feed Nova Scotia.
Addressing food insecurity at Sunday Suppers.
It's ALL church.

We hope you will join us at one, or all! You are welcome here.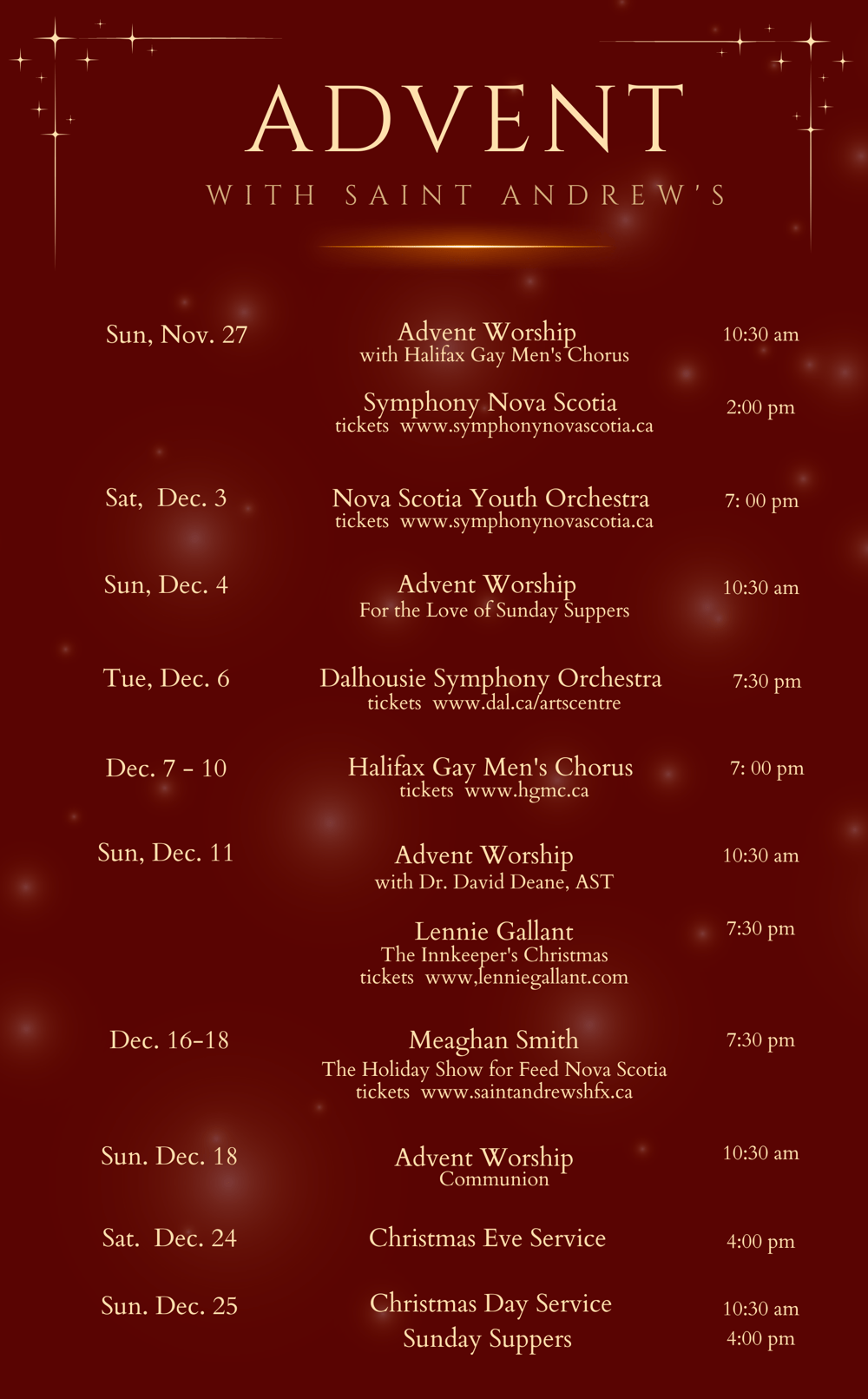 Transgender Day of Remembrance
---
We joined our friends at Queer Spirit Church on the afternoon of Sunday, November 20 for a special service to observe Transgender Day of Remembrance — a day to remember trans people (particularly transfeminine people of the global majority) who have been lost to hate crimes and other forms of violence.

Part contemplation, part education, this service aimed to open the eyes and touch the hearts of all.

"Perhaps this is also Christ."
Healing Pathway Training
We are excited to be bringing Healing Pathway Ministry to St. Andrew's - A Transformational Spiritual Practice. This practice is heart-centered, inclusive, brings community together for self-care, and restores wholeness, balance and harmony.

Phase 1 training was held October 21-22. Stay tuned for what's happening next!

Want to learn more? Watch this video or go directly to the Healing Pathway website.

*We are grateful for the generous financial support from Regional Council 15 and their New Ministries Initiatives Fund, which provided subsidies for participants.
What else can we be doing?

Celebrating diversity and inclusion is not a one time thing during Pride. We keep working at it all the time to make sure St. Andrew's is a safe place.

Tell us - what else can we be doing? Do you have an idea or vision for our community?

We want to hear from you! Click the button to email us.